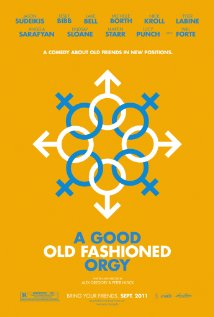 "A Good Old Fashioned Orgy" on IMDB
Comedy, 95 Minutes, 2011
[This movie is the first in what unexpectedly became a Tyler Labine [IMDB] film festival when we coincidentally watched two movies starring him in a row.]
This falls squarely in the "likable, quirky group of friends explore an oddball premise" class of rude-comedies-with-a-heart category.  In this case eight friends are facing the loss of their shared summer home where they're known for throwing elaborate parties.  To celebrate their last summer together (and to defend the movie's title) they decide to have… well, you know.
The movie holds together better than you might expect.  There are some weak points where the raunch takes over and sadly drag things down but for the part the laughs are warm and friendly – but not especially big.  That said there's not a whole lot new here and the gags tend towards the safer end of the spectrum.
Sure the characters are a little bit cardboard, but they're all very likable.  A minor issue is that there's just so many of them – eight major and at least that many featured minor characters.  While each is given a hook it becomes something of a chore keeping track of them… but I suppose you need more than three or four for a decent orgy, right?
This movie is equal parts low-brow comedy, romantic comedy and quirky indie comedy.  It's consistently above average, but never really reaches truly great heights.  By a similar token it never really hits any real lows either.  It's a good, unabashedly adult but ultimately safe movie perfect for a quiet date-night-at-home.