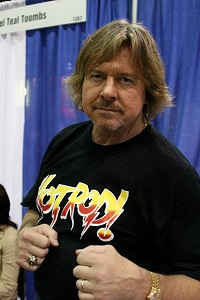 As widely reported, 80's icon "Rowdy" Roddy Piper [IMDB] died peacefully in his sleep on July 31st at the age of 61. Roderick George "Roddy" Toombs was born in Saskatoon, Saskatchewan on April 17, 1954 to parents of Scottish and Irish descent. He left home at a young age after a dispute with his father and ended up doing gopher work for professional wrestlers.
He received the stage name "Roddy Piper" when he made his wrestling debut at the age of 15 in Winnipeg. He approached the ring playing the bagpipes, a gimmick that would become his trademark. The announcer gave his name as "Roddy the Piper", but fans heard "Roddy Piper" and the name stuck.
Piper had numerous acting credits across a long, interesting career, but I'm going to focus on two of his earliest and, for me, most fondly remembered.