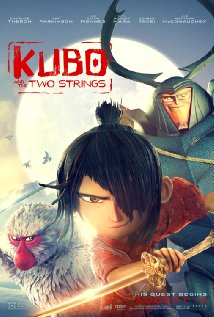 "Kubo and the Two Strings" on IMDB

Fantasy/Adventure/Family, 91 Minutes, 2016

This is the fourth feature from the stop-motion geniuses at LAIKA. Following "Coraline" [IMDB] in 2009, the small studio has fallen into a comfortable two-year release schedule with "ParaNorman" [My Review at MoreBrains.com] in 2012 and "The Boxtrolls" [My Review] in 2014 and now this in 2016. Each and every film is a modern classic and "Kubo" is no different.
Kubo's mother, Sariatu (Charlize Theron [IMDB]), fell in love with Hanzo, a great samurai that her and her sisters were sent to kill. When she gave birth to Kubo her father, the powerful Moon King, insisted that the child's eyes be plucked out to prevent their humanity from tainting him. Kubo's mother escapes at great cost to herself, but not before one of his eyes is sacrificed.
They now live in a cave on the outskirts of a pleasant village. Kubo's mother spends her days in a stupor, never having fully recovered, while he earns money using his meager magic to animate origami figures for the amusement of the villagers. He rushes back to the cave at dusk to huddle in fear of being discovered by his vengeful grandfather or his terrible aunts.
The movie is astounding. The level of detail, fluidity of motion and sheer effort expended is a source of constant amazement. Laika created intensely dynamic scenes. Churning ocean waves, flowing hair, fabric and massively complex characters are coupled with sublime lighting and audio work. That these elements each work so well individually is accomplishment enough; seeing them orchestrated together so expertly is nigh unbelievable.
Of course, story trumps looks. Kubo's is beautiful and sincere, if not particularly original. Kubo's caught outside at night and is found by his sinister aunts. His mother spends the last of her magic to send him away and provide him a protector, Monkey. With the help of Beetle, a warrior insect, they must find three artifacts to fight his grandfather. It's simple, yet hides surprising depth.
Similar to "Paranorman" before it, the film matures dramatically through its last act. What began as an engaging, if shallow, adventure story ends with a surprisingly adept commentary on family, respect and the power of humanity. The discipline required to produce Laika's films clearly influences their stories: they consistently choose the more difficult, yet much more satisfying, path.
Unfortunately the public has failed to reward their effort. Each Laika film sadly ekes by, making slightly less than the previous one. It's terribly frustrating to see brilliance flounder, yet the studio persists, never compromising; always choosing the better, if more difficult, path.