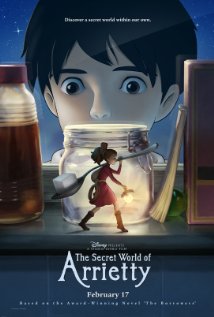 "The Secret World of Arrietty" on IMDB
Family, 94 Minutes, 2011
This is Studio Ghibli's eagerly anticipated adaptation of the massively popular children's book, "The Borrowers".  While not faithful to the storyline of the book it's abundantly clear that the filmmakers have a deep and meaningful respect for the source material.
For those few unfamiliar with the premise: our world is shared by hidden, tiny people who tuck themselves away in our walls and foundations.  They furnish their lives by "borrowing" small items and using them in ingenious ways.  A boy, suffering from a heart condition, is sent to live in a large old house with his aunt.  There he encounters the young borrower Arietty, one of the last of her kind, and they develop an unexpected friendship.
Every aspect of the film is masterfully crafted.  There's literally nothing not to like.  The iconic character design will be no surprise to any fan of the studio but continues to emote and warmth and subtlety of emotion rarely matched in animation.  The environments, laced with larger-than-life everyday objects, are imaginative and were clearly as much a delight to construct as they are to visit.
The standout of the film has to be the sound design.  Painstaking care was taken to present the audible world from our tiny heroine's point of view.  A chair being slid back from a table rumbles like thunder; footfalls resonate with a low, demanding echo and raindrops become a crowd of individual percussions.  The scampering feet of a friendly pillbug has a different quality than that of a prancing cricket.  Cécile Corbel's music wonderfully supplements the sound design without ever overpowering it.
As has (finally!) become the norm for high-profile Japanese releases both the English translation and voice acting is uniformly excellent.  Characters are simplistic but effective.  The script is deft and minimalist but unafraid to confront serious topics as when Arietty's worldview is shattered by the knowledge that humans boast a massive population and borrower's may very well be dying out.
While American animation rarely reaches further than wise-cracking pop-culture references Ghibli films never fail to produce anything less than open-mouthed wonder and this is no exception.  This is that rare and wonderful kind of film that your family will return to time and time again.