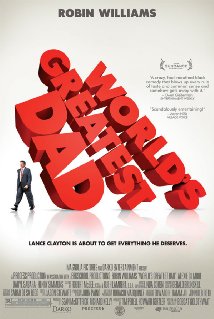 "World's Greatest Dad" on IMDB
Comedy, 99 Minutes, 2009
Oh damn, this is a good movie.  Written and directed by Bobcat Goldthwait [IMDB], this perfectly encapsulates his particular outlook.  It celebrates the best in us by examining the crappiest of us.  This is an actual piece of God-damn genius.
Lance, played perfectly by Robin Williams [IMDB], is a disillusioned high-school teacher still pining for the writing success he was never able achieve.  He has a depressing job and an even more depressing love life.  His son, played by Daryl Sabara [IMDB] is a terrible, terrible person.  Really, terrible.  The kid is a selfish, smear of a stain of a human.
Lance slides through life being taken advantage of by those around him while watching his son treat all those around him like shit.  His struggle to find some, any, redeeming qualities in his son is physically painful to watch.  This epitomizes Goldthwait's comedy: wince-inducing, disturbing and freakin' hilarious.
When he finds his son dead in a tremendously embarrassing way – a way that confirms every terrible thing about him – something breaks in Lance.  He simply cannot accept this additional failure as well.  He pours his tarnished soul into a forged suicide note and his son becomes a national martyr.  We then follow Lance's guilt-ridden ascent to fame on the coattails of his completely fictionalized son.
This movie is crude, rude and very often lacks any sense of common decency and taste.  There isn't an emotional beat out of place.  It wades through the darkest depths of human emotion smiling maniacally the entire time.  It's the blackest of comedies.  It's also deeply moving, completely entertaining and totally understandable by anybody with kids because, it's a fact people, sometimes they are very hard to love.