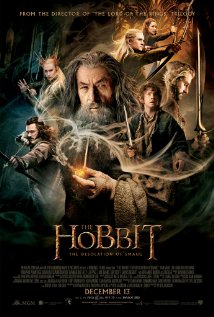 The Hobbit: The Desolation of Smaug" on IMDB
Fantasy/Adventure, 161 Minutes, 2013
This is the continuation of Thorin Oakenshield's quest to reclaim the throne of his forefathers from the powerful dragon Smaug. Bilbo the Hobbit has proven his worth and courage and is a true member of the company. The movie picks up as the last ended, with the company being hunted by Azog's orc pack.
Technically, this movie is just as impressive as all the others. It's worth the price for large format theater admission, if available. This segment is a bit slower than the first but still features several long, bombastic action sequences – a few of which are even less believable than those from the first.
Jackson clearly wants to shed some of the gravitas he cultivated in "The Lord of the Rings" but to do so he often resorts to flat-out slap-stick. The dwarves see-saw between bumbling, capture-prone buffoons and ninja-like, acrobatic death machines. He successfully walked the line between cartoonish and fantastical in the first movie but did cross it a few times here.
I'm not sure if that's really a bad thing. For example, in the barrel-riding sequence (which now features an orc attack), Bombur's barrel is launched aground and rolls bouncing over multiple orcs before Bombur turtles forth from it, takes out several others and leaps elegantly into another barrel. I admit that I rolled my eyes during the scene but much of the theater audience was laughing out loud. Clearly, despite my misgivings, people seem to like it.
Whether you truly enjoy this movie will depend a lot on your feelings on the book. I'll be blunt: this isn't The Hobbit. It's like somebody tried to rewrite it based on a few minute synopsis they'd heard third-hand on a subway. Characters, relationships, events and environments are added, changed or removed. Even the smallest and most straightforward of details are rewritten. Also, the relatively small changes made in the first film snowball, forcing even more change to compensate.
The defense is pretty simple: as beloved as The Hobbit is it would, let's face it, make for a pretty shitty movie. It is a children's story after all. Its characters are shallow, archetypical stereotypes. Nearly all major problems are solved by deus ex machina. Motivations are simplistic and consequences minimal. Most importantly, however, is the fact that the "Hobbit", as written, could barely support a single two-hour movie much less an eight-plus hour trilogy. MGM needs these annual blockbusters.
That granted I would still find it difficult to argue with anybody that find the movies less than respectful of their source material. Normally, I'll admit, I'd be with them. In this case, largely because of the weaknesses of the source material, I'm willing to accept a more open interpretation.
The movie is exactly what you've come to expect from Peter Jackson: an epic, expertly crafted adventure. It may not be exactly what Tolkien had it mind, but I would like to think that he wouldn't be entirely displeased with the result.