"Mr Peabody and Sherman" on IMDB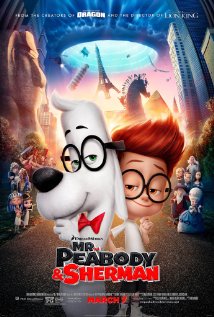 Family, 92 Minutes, 2014
Hey kids, it's a computer animated family film based on an old cartoon! There are topical references! There are nostalgic references! There are puns! Surprisingly, it's not that bad. I mean, hell, it's not that great either, but in the vast technicolor sea of computer-vomited slop it's… not that bad.
The acting, especially Ty Burell's [IMDB] Mr. Peabody, is impressive. He seems to truly relish the genius canine's (many) trademarked puns. The script is smart but the story is your basic "genius dog meets boy, adopts him and builds a time machine" kind of thing. A time machine can definitely complicate things, but doesn't necessarily make them more clever.
The relationships are warm and add both a nice human element and believable motivation. A healthy serving of cartoonishly twisted history keeps the action up, although those hoping for anything educational are going to be disappointed. Then again, those actually expecting anything educational clearly didn't know what they were getting into.
The movie stuck to the formula of the source material and largely succeeded because of it. Unfortunately that formula was optimized for a 10-minute short and spreads pretty thin over 90 minutes. Still, the kids liked it and that's probably all that really matters.