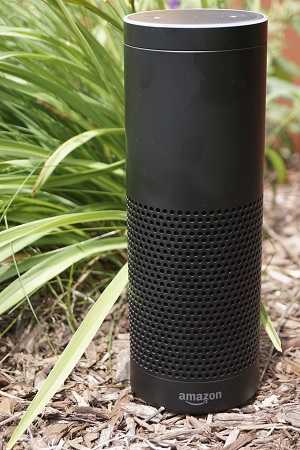 Model: SK70501
Website: http://www.amazon.com/echo/
MSRP: $179.99
[This review covers the initial model of Echo as delivered to pre-order customers. There may be slight differences when compared to the final release version. Pre-orders also included the now-optional remote control.]
Amazon Echo is a set-and-forget, hands-free voice assistant for your home. It was first offered (at a substantial discount) by invitation to Amazon Prime customers and so we've been using it since February. It's now generally available to all. With a few minor caveats, our experience has been very good.
The Basics
Physically, the unit is a solidly built cylinder about the size of a one-liter soda bottle. You can, in fact, ask it how tall and heavy it is and it will answer "I'm about 10 inches tall" and "I weigh about two pounds". It's a simple, non-descript design, but there's a definite sense of quality. It just feels expensive.
The lower half of the unit is a perforated speaker grill. The omni-directional sound out of the device, whether speaking or playing music, is surprisingly full and rich with an impressive – and distortion free – upper volume limit. While volume can be easily controlled via voice, the top half-inch or so of the outer ring doubles as a manual control. Finally, the very top of the device features two hardware buttons: one to toggle the microphone on or off and a generic "action button". We've never found the need to manually access any of these controls.
Echo features a dynamic lighting ring at the top edge that strikes an excellent balance between subtle and flashy. When addressing the device the light bar will "point" in the direction of the speaker making it clear that you've been heard. The light ring also indicates various states such as the microphone status or "thinking".
I'll spend little time on the well-designed remote control (a $30 add-on for the current model) for the simple fact that we've never found the need to use it. For those that prefer a more tactile experience, the remote features a local microphone (useful if you're in a noisy environment) along with volume and media playback controls. It's a quality accessory, but Amazon's decision to remove it from the base unit in exchange for a price drop is a good one.
Configuration
Our Echo came preconfigured to access our Amazon account giving it immediate access to our purchased music and account. Configuration is done via an app (Android or iOS) or a computer on the same network. It amounts, essentially, to entering your Wi-Fi password and confirming your zip code. Once connected, you're good to go. There's no voice training at all. The device has responded well to everybody that's tried it: male, female, young, old, lispy, raspy, accented, etc. It just works.
About this time you'll also likely transition from saying "it" to saying "her". The default keyword is the name "Alexa". The only other available option is "Amazon" (which is terrible). As no custom options are possible, if you have somebody named "Alexa" in your house, you're pretty much screwed.
Alexa has a smooth, agreeable female voice. Delivery and tone is bright and conversational and only rarely "robotic". While not particularly interesting, the voice should be acceptable to nearly everybody. Still, some alternatives couldn't hurt.
As good as the recognition is, there are periodic false positives. These are rare enough to be ignored, but be prepared to hear "I'm sorry, I didn't understand your question" every once in a while if talking or watching TV in the same room as Alexa.
The configuration app transitions into a companion app. It allows you to review the last few interactions (many of which contain expanded information), review any to-do or shopping list items you've set and manage timers and alarms. It also works as a simple media remote for the device and provides information about new features and fun things to try.
Talking with Alexa
Interactions are par for the course: say "Alexa" and then ask your question or give a command. It really is just that simple. The microphone array easily picks up a conversational tone from across a large room. Although far from omnipotent, the sheer breadth of information you can obtain is impressive. Crossword puzzle fans – at least those with a rather loose definition of "cheating" – will find a lot to love.
Alexa will happily:
Answer most straightforward math or spelling questions and provide the definition of most words.
Deliver a complete current or future weather report. You can also specify an alternate location as in, "What's the weather in Boston, Massachusetts?"
Answer simple trivia or general knowledge questions. These can be simple – "What's the population of Canada?" – or more complex – "Who was president of the United States in 1949?". You can also get a little silly – "How far away is Denver, Colorado in inches?".
Answer many literature, music or movie questions. "Who wrote 'The Sun Also Rises'?", "What was the first album from 'The Beatles'?", "What was Wes Anderson's second movie?" or "What movies did Bruce Willis star in?"
Handle more complicated topics with the help of Wikipedia. "Alexa, Wikipedia Justice League of America" will read off the first few sentences of the article and pull the rest into your Echo app.
Deliver a customized "Flash Briefing". This defaults to an approximately six minute overview from NPR news and has become a morning ritual for us. Multiple other news sources and categories are also available.
With a recent update, provide a massive amount of up-to-the-minute sports information. It's gone completely unused in our house, but some may consider it a must-have.
There are, naturally, inside jokes and gags built-in as well. Ask Alexa to tell you a dirty joke, for example, and she might reply "What is brown and sounds like a bell? Dung!" She also knows the correct answer to Life, the Universe and Everything.
Working with Alexa
Alexa can handle many useful, if simple, tasks. Adding items to your shopping or to-do lists (available for review in the app) is simple. Setting one-off timers is more useful than it first appears and configuring permanent alarms is intuitive and functional.
Unfortunately, she tends to fail with more complex requests. I would expect an answer to "When is 'Mad Max' playing at the local theater?" but this and similar questions befuddle her. You're also unable to leave notes or reminders. It would be nice to say, "Alexa, note that I'm going to to the store" and have my wife ask, later, "Alexa, any notes?" to find out to where I've wandered off.
She also lacks personal information services. Although a recent update provides basic interaction with Google Calendar, other personal information managers remain unsupported. Alexa can pair with your cellphone, but only for media use. She can't access or take action on your contact lists, email, text messages or any other personal information.
Finally, the lack of portability is a nagging issue. We've stationed Alexa in the common room of our home which makes her easily accessible from the kitchen, office and living room. Features, like alarms are more suited to the bedroom, and so go unused. She would also be useful in the garage/workshop where being able to do conversions or math problems while covered in grease is very useful.
Currently, the only option is to purchase multiple units, but this is exceedingly cost prohibitive. Amazon may be able to address this with cheaper, less capable slave devices but there are no plans to do so currently available.
Music and Media with Alexa
Alexa puts those excellent speakers to use by being able to play music from many popular services. You can, of course, play anything in your Amazon library or from Prime Music (if you're a subscriber), but Pandora and iHeartRadio are also supported. Alexa can also deliver audio books from Audible and, via TuneIn Radio, access most popular podcasts and local radio stations.
You can also hear samples of pretty much any song or artist that Amazon offers and buy them directly. I now find myself educating my children constantly about classic music. Being able to simply say "Alexa, play 'Space Oddity'" when it comes up has made family discussions much more interactive.
You can also just leave things up her. "Alexa, play rock music" will do exactly what you think it should. Finally, as noted, she also supports Bluetooth connections with phones or tablets allowing you to play and control media files from those devices with your voice.
It's worth noting that Alexa must have excellent internal noise cancellation: even when blasting out tunes, she's still able to hear and respond well to normally voiced commands.
My only real gripe is the lack of DLNA functionality. Echo still can't play anything from the large library of music on my home NAS server. This may be purposeful as Amazon is clearly pushing their vertical service model, but I can still dream. It's also puzzling to me that there's no integration between the Echo and Amazon's popular FireTV line. Voice search and navigation for the FireTV Stick seems like a no brainer, but remains sadly unavailable.
In Conclusion
Echo is an excellent, well-constructed and well-designed device. It's an easy recommendation considering quality, ease-of-use and the sheer "neato" factor. At the same time the actual impact of the device on your life is likely going to be quite small,  It's current feature set is dwarfed by any modern smart phone, even if it is easier to use. Echo is definitely a nice to have, but far from a must have.
This is driven home further by the pricing. As Prime subscribers and early-adopters, we paid $100 for the unit. This is expensive, but still on the (far) rim of "impulse purchase". The current $180 price (plus an additional $30 if you want the remote that came included in our package) makes it a much harder sell.
Still, there's something undeniably friendly about Echo. Put simply, it eliminates all the friction. Just speak into the air and a warm, accommodating voice answers. I never pull out my phone at home and ask it inane trivia questions, but I ask Alexa stuff all the time. I may not need her (yet), but I definitely like her.