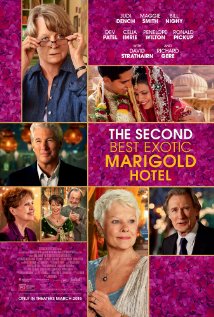 "The Second Best Exotic Marigold Hotel" on IMDB
Comedy/Drama, 122 Minutes, 2015
I was a big fan of the first film (my review). I spoke extensively about the quality of films featuring older, more experienced actors. This movie? That thing I said: same thing again. That's not a particularly bad thing. I liked the first movie. It had an amazing cast, a funny, but understated, script and a simple, heart-warming message. This is more of the same and the same is pretty good.
The underlying story of the first film was Sonny's (Dev Patel [IMDB]) desire to save his failing hotel and impress his long-suffering girlfriend (Tina Desai [IMDB]). This time Sonny is trying to buy a second hotel and impress is long-suffering fiancee. He decides that Richard Gere [IMDB] is an undercover representative from a capital firm he's wooing and spends most of the film frantically fawning over him, to the detriment of his other relationships.
The residents from the first film – Judi Dench [IMDB], Tom Wilkinson [IMDB], Bill Nighy [IMDB], Maggie Smith [IMDB], Ronald Pickup [IMDB] and Celia Imrie [IMDB] – return and enjoy various adventures ranging from the sweet and romantic to the strange and surreal. Character arcs are continued from the first film and its few loose ends are tied up neatly.
The events, this time, do have a tendency towards, let's say… "goofiness"? Many of the scenes have a weird "Three's Company" vibe that was missing from the first film. Things stop short of pratfalls, but we still get sloppy drunks, wacky misidentifications and a few instances of what can only be called prop comedy. It's not a fatal change in tone, but it is noticeable.
This is a solid, if uninspired, continuation of the first film. If you missed the first, or didn't like it for some reason, there's no reason that you'll like this. If you, like me, found the first charming, warm and comfortable, then you'll like this as well.