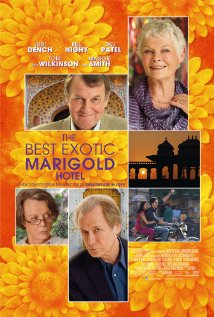 "The Best Exotic Marigold Hotel" on IMDB
Comedy/Drama, 124 Minutes, 2011
Movies about old people tend to be really good.  They just are.  "On Golden Pond" [IMDB], "Coccon" [IMDB], "Grumpy Old Men" [IMDB], "Driving Miss Daisy" [IMDB], "*Batteries Not Included" [IMDB], "Second Hand Lions" [IMDB], "Red" [IMDB] – and the list goes on.  They're all great.
This is probably because actors, like anybody else, tend to get much better at their jobs the longer they do it.  Of course, paradoxically, nearly every meaty role in hollywood is designed for hot young people so they rarely get to actually show us.  Instead they get small parts as grandparents and eccentric next-door neighbors that people say are "scene stealers".
The result is that when you toss a bunch of old actors together with a nice, meaty script you almost always strike pure gold.  (Movies featuring ugly people tend to be really good for similar reasons, but there are far fewer of them.)
This is an incredibly talented cast and a wonderful script.  Every single cast member is put to the absolute best use allowing these veterans to really demonstrate their skills in the most comfortable way possible for them.  Sure it hits all the expected notes: life doesn't end at 60, anybody can change for the better, don't waste your life, etc – but there's also a delicate understated charm about the whole thing that's so damn adorably British.
Yes, there is an obligatory romantic subplot between two young people but unlike "Letters to Juliet" [My Review] it didn't detract from the overall quality of the film; mostly because it was never allowed to overshadow the much more interesting stories of the old folks.  The "save the hotel my father left me" sub-plot is also pulled right out of 80's bikini car wash flicks but is pushed so far into the background you never get the chance to groan about it.
This is an example of British cinema at its finest.  Wonderfully witty, soulful and of the highest quality on a small fraction of the budget of even the most lifeless American rom-com.  I'm not sure if it's possible for age to turn somebody British but after watching films like this it's a goal that I'd like to set my mind to.