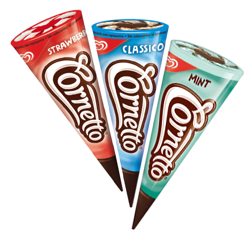 It's impossible to discuss Simon Pegg without mentioning The Three Flavours Cornetto Trilogy (it's already been mentioned several times during Peggapalooza). The films are directed by Edgar Wright [IMDB], written by Wright and Simon Pegg [IMDB] and star Pegg and Nick Frost [IMDB].
Cornetto's, for those unaware, are a popular prepackaged ice-cream treat popular in the United Kingdom. Each of the films in the trilogy features a distinct, thematically appropriate, flavor.
The Strawberry ("blood") flavor is featured in Shaun of the Dead, working as a supposed hangover cure. A callback gag in Hot Fuzz, this time featuring the original blue ("police") packaging, caught the attention of an interviewer and Wright joked that they would eventually represent a trilogy. As good as his word, the mint green ("alien blood") flavor is referenced in The World's End, completing the sequence.
According to Wright, the films are "Trojan Horses". Each hides a relationship comedy in a different genre: horror, action and science fiction. Each also examines similar themes of maturity, arrested adolescence and individuality. While the characters for each are original, the cast remains familiar with many actors appearing throughout all three films.
The films are known for the breadth and density of their humor. Gags are visual, vocal, physical, highbrow, lowbrow and everything between. The films obsessively reward repeat viewings. For example, each features an early segment that foreshadows the events to follow; a sequence that's easily missed. Every film plays with the tropes of its genre in a marvelously active way; no opportunity is wasted.
There will be spoilers ahead, for those unfortunate enough not to have seen these.
Comedy/Horror, 99 Minutes, 2004
This is the first feature and writing collaboration for Wright and Pegg and had the lowest budget of the trilogy. It's also perfect in every conceivable way. It never set the box office on fire, but has become a quintessential cult film and, for most, the best film of the trilogy.
This is an annual treat for our family, capping off our Easter Day zombie celebration, Boiled Eggs and Brain Eaters. It never gets old and even after years of watching it, we're still finding new jokes.
In what would become a major theme of the trilogy, Shaun (Pegg) is unwilling to truly accept maturity. He holds on to childish angst, refuses to commit to the love of his life and fritters away most nights at the local pub. Ed (Frost), his best friend, is even less evolved, but much more self-aware. The question is: what will it take for these two (or, one of them, at least) to man up and decide what's really important?
A zombie apocalypse, that's what!
A sincere romantic comedy is ultimately revealed under all of the blood as Shaun plots to keep those he loves safe. His plans may not be… orthodox, but they come from the best intentions. The heart of the movie elevates it above other zombie fare, and indeed, over the rest of the trilogy.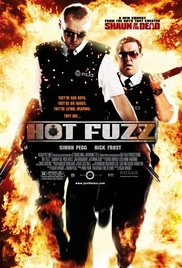 Comedy/Action, 121 Minutes, 2007
This is Wright and Pegg's ode to classic cop action films. Nicholas Angel (Pegg) is your average, everyday super cop. He's at the top of his form, the hero of his district and pissing everybody he works with off. Wanting to go to back to easy mediocrity, they transfer him from the bustle of London to a quiet, and distant, country hamlet, Sandford.
He's paired with bumbling local, Danny Butterman (Frost), who's a bit too obsessed with hollywood-style police work. It quickly becomes apparent that Sanford isn't as quiet as it appears as Nicholas and Danny are soon investigating multiple murders and uncovering a town-wide conspiracy.
The two men need to rely on and accept one another. Both, in different ways, are dealing with immaturity. Danny is forced to grow up and face some dark truths while Nicholas learns how to let loose and have some fun; some immaturity, after all, can be a good thing.
The movie ends with an extended, bombastic action sequence worthy of any of the Hollywood films that inspired it. There's shooting, running, leaping and a barreling car chase. All of this is undercut with the trilogies deft, multi-angled humor.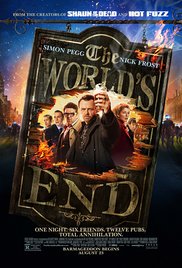 Comedy/Sci-fi, 109 Minutes, 2013
The last film, often considered the weakest but most elaborate of the trilogy, flips expectations. It's been reviewed previously on DepressedPress. Gary King (Pegg), is the immature dreamer obsessing over a lost adolescence. Andy (Frost), is the well adjusted adult pulled into Gary's childish scheme.
Gary's dragging his old school mates out for one, last, epic pub crawl: The "Golden Mile". A dozen pints at a dozen pubs in their hometown of Newton Haven; something they were never able to complete in their youth. The pubs, the names of which foreshadow the events of the film, are mined for a tremendous number of gags.
As the group moves reluctantly forward, it becomes clear that this is not the town that they remember. This point is drilled home when they brawl in a men's room and literally knock the heads off their attackers, revealing them to be blue-blooded androids. Convinced that the town is completely overrun, they continue the crawl to maintain appearances as they try to sort out what's going on.
The movie may not best its siblings, but that's a high expectation. It ably demonstrates the kind of human, heartfelt humor that has made the entire trilogy so beloved. There's no driving reason for the Cornetto Trilogy to remain a trilogy; here's hoping that Wright and Pegg will be inspired to continue the tradition in the future.