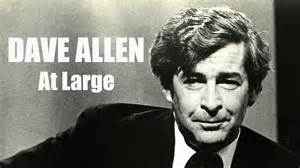 Way back in the history times when I was a child in the suburbs of Buffalo, I had a small TV in my bedroom. With the bent rabbit ears, I could pick up a small handful of channels and the clearest was WNED PBS, channel 17. As part of their "cultural offerings", the channel showed British Comedies each evening ending with an episode of "Benny Hill" at 10 and "Dave Allen at Large" at 10:30.
Benny Hill's antics – and his scantily clad Angels – may have gotten all of the attention, but I connected with more Dave Allen's brand of intimate, laid back, yet deeply challenging humor. At the age of nine or ten, I often didn't understand what he was talking about, but adored the quiet passion which which he said it.
He had a powerful ability to lovingly mock the institutions of authority, especially religion, while maintaining a genuine respect the people that formed them. Like all great comics, he ran the gamut from serious and complex to silly and shallow, but his body of work has a clear, overarching message: it's a pretty damn good thing to be alive, so enjoy yourself and don't let anybody tell you otherwise.
This wonderful biography captures much of the feelings that I have, although my exposure to him was quite small.
If you've never seen him, do yourself a favor and follow some of the related links. If you're an old fan, I hope this brings a smile to your face.