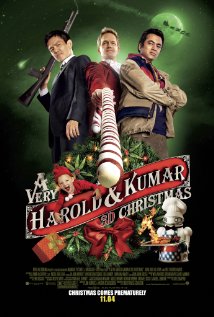 "A Very Harold and Kumar 3D Christmas" on IMDB
Comedy, 90 Minutes, 2011:
I entered into this with mixed feelings.  Having adored the outlandish abandon of the first installment I looked forward to the second… and absolutely hated it.  It felt forced and spiteful where the first was organic and hopeful.  It just didn't gel for me for whatever reason.  I'm happy to announce that "A Very Harold and Kumar 3D Christmas" is a fine return to form.
It may be the simple fact that, like the first, this one concerned itself with unreasonable hardships in the pursuit of simple pleasures.  All Harold wants – all he needs – is for the first Christmas he hosts for his wife's family to go well.  Of course half the fun is the certain knowledge that it won't.
The gags are just as ridiculous and juvenile as you've come to expect.  There are some hilarious, over-the-top nods to the ridiculousness of 3D movies in general and plenty of inside jokes to keep the sharp fans on their toes.  The requisite extended Neil Patrick Harris cameo fell a little flat but was more than redeemed by the stoned baby gags and the absolutely hilarious "Waffle-bot".  Tossing Danny Trejo into the mix was just icing on the cake.
This is a still a movie that you have to be in a certain mood to enjoy – but I was definitely in that mood. Maybe I should give the second one another shot?