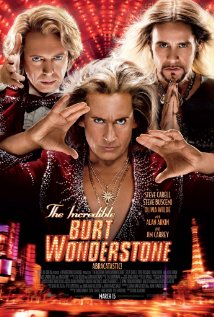 "The Incredible Burt Wonderstone" on IMDB
Comedy, 100 Minutes, 2013
I have no idea what happened here.  The cast was amazing: Steve Carell [IMDB], Steve Buscemi [IMDB], Olivia Wilde [IMDB], Jim Carrey [IMDB], James Gandolfini [IMDB] in one of his last roles, and Alan Arkin [IMDB].  Director Don Scardino [IMDB] may be new to feature films, but he has had an incredible presence in television.  How could this fail?!
I don't know; but it did.
Actually "fail" may be a big word to use here.  The movie didn't so much fail as simply collapse slowly and sadly under a gelatinous mass of dullness and boredom.  I could actually feel my traitorous body falling asleep from under me as I watched.
I'm a huge fan of traditional Vegas-style stage magic.  Penn and Teller, Lance Burton, David Copperfield: they're great. I really thought this story about a jaded magic-geek battling the onslaught of stunt- and street-magic and being reintroduced to his original love of the art would be good.  At worst, I thought it might end up one of those quirky movies so invested in its selected niche that it would lose mass-market appeal.
I really never expected, especially with this cast, that it would just end up so dreadfully, drearily slow.  There was literally no laughter in the room as we watched this.  Well, not until the end credits at least.  There they did some "behind the scenes" footage of the big trick that was pretty inspired.  So my recommendation is just to fast forward to the end credits.