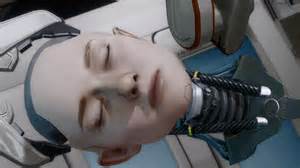 Not all explorations of A.I. need to be long, bladder-testing epics (I'm looking at you, misters Spielberg and Kubrick). Sometimes all you need is a few minutes. The following five shorts are all less than 10 minutes long, yet each deftly explores major themes of artificial intelligence and would give any feature film a run for its money.
"Abe" by Rob McLellan
Abe is the deliciously disturbing story of an A.I. turned psychotic by its one, overriding need: to be loved. It explores the emergent, unintended consequences of A.I. in the darkest way imaginable. Although likely a victim of MGM's financial implosion, the short had been optioned by the studio for a feature film.
"AMP" by Triton Films
Switching gears, so to speak, AMP is a combination short/demo/trailer for a buddy action flick starring a wise-cracking protagonist and his loyal brute of a robot pal. Think Turner and Hooch with less slobber and a hot mechanic.
"Kara" by David Cage and Quantic Dream
This one always chokes me up. Kara brings us behind the scenes of an android construction facility where a hapless quality tester has to deal with something unexpected. Produced as a technical demo for the PlayStation 3 by cinematic game pioneer David Cage.
"R'ha" by Kaleb Lechowski
Another short currently in the pipeline to become a feature film, R'ha drops us in the middle of a war between an alien race and the A.I. army that has turned against them.
"Changing Batteries" by MMU, Malaysia
Finally we have the heart wrencher, Changing Batteries, where a dedicated service robot is faced with a situation he can't understand. Call your parents, people! The cat's in the cradle! It's in the cradle!