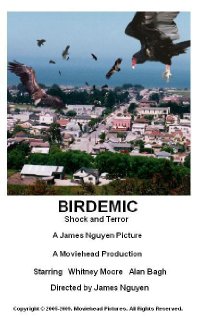 "Birdemic: Shock and Terror" on IMDB
Horror, 90 Minutes, 2010
My son made us watch this.  Apparently some guy on YouTube did a review and he just had to see it.  It was on NetFlix which fooled us into thinking it was actually a movie.  So we watched it.
You shouldn't.  You really just shouldn't.  Here's the storyline from IMDB:
A platoon of eagles and vultures attacks the residents of a small town. Many people die. It's not known what caused the flying menace to attack. Two people manage to fight back, but will they survive Birdemic?
You won't care if they survive.  In fact you'll root for them to die horribly.
Let me put it another way: If you watch this as a double feature with "Rise of the Animals" [My Review] you will die.
(My wife insists that I tell you about the part that was so bad that you laugh.  That was the whole movie.  Are you the kind of person that revels in other people's complete and total failure?  Then hey, you might like this after all.)