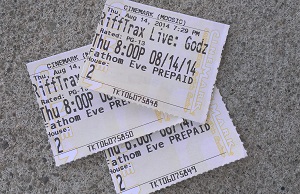 When the fine, funny people at RiffTrax decided to take their special brand of snark to theaters across the country we knew two things:
They were clearly both very smart and very lazy for doing so via satellite instead of actually, you know, driving around.
It was going to be insanely, amazingly awesome.
The first show,  August 20, 2009, was "Plan Nine from Outer Space" and this was followed up regularly with a small herd of super-cheese staples including "Reefer Madness", "Manos: The Hands of Fate" and the modern, solar-powered classic, "Birdemic". To do bigger movies, they'd need more money. Being that special combination of smart/lazy/awesome they left that part up to us. A hugely successful KickStarter campaign gave us an amazing evening with "Starship Troopers".
So, after another successful KickStarter and nearly five years from that first show, they brought us Roland Emmerich's 1998 character assassination of "Godzilla". In it he accused the Big "G" of being an asexual, hermaphroditic, tunnel-crawling, no-fire-breathing, Jay Leno-looking mutated iguana. It got what it deserved and it was hilarious.
Broadcast by Fathom Events to hundreds of theaters across North America (the good America) the shows bring together thousands of fans and and some high-quality father/son time. I've seen "Guardians of the Galaxy", but this – Roland-freakin'-Emmerich's Godzilla – is still the most fun I've had in a theater all year.