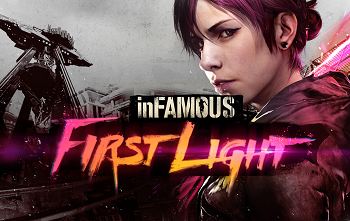 Reviewed on Playstation 4, Official Website
Sucker Punch revisits the successful formula of 2011's "inFamous: Festival of Blood" (a follow-up to inFamous 2) with this sorta-DLC, but still stand-alone follow-up to "inFamous : Second Son" [My Review]. For $15, fans get a huge addition to the original game, while the curious can enjoy a beefy stand-alone adventure.
My review of "Second Son" lamented its lack of scope but lauded its gameplay. It felt smaller than the previous games and perhaps a bit rushed, yet undeniably gorgeous and a blast to play. First Light enhances it in ways that ultimately eliminate nearly all my criticism.
The expansion details the backstory of Abigail "Fetch" Walker, by far the most interesting character in "Second Son". The story shifts between events just before the start of the main game, with Fetch in DUP custody, and those of seven years prior, when her and her brother were trying to raise enough money to leave Seattle for good. As a prequel, it can be played before or after the main game with no concerns about spoilers.
The additional campaign missions can be completed in approximately five-to-eight hours and represent some of the best available, even if they do lack the size and variety of the main-game's mission. Fetch's neon-based powers, a highlight of the main game, are back and expanded, but are all you get. New upgrade and neon grafitti systems work to keep things fresh.
The story is dark and packs an impressive emotional kick. Fetch is a conduit, hunted wherever she goes. Her brother has given up everything to keep her safe and she owes him more than she'll ever be able to repay. When he's taken there's nothing – absolutely nothing – she won't do to get him back.
A massive new arena combat system is also included. While this works, loosely, into the story it also features the ability to play as Delsin Rowe, the protagonist of the main game. The three available arenas are intricate, multi-dimensional mazes and several play types including survival and hostage rescue add replayability. These arenas are fun and can easily double or even triple the available gameplay time, but are also easily ignored if not your particular taste.
This is exactly what DLC should do: expand upon both the gameplay and the story of the main game while giving fans most of they want. Making it a stand-alone expansion is just clever icing on the cake. This is a can't miss for fans of the inFamous universe and an inexpensive gateway for the curious.