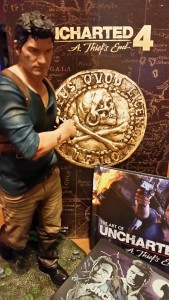 Like many others, I took delivery of Uncharted 4 today. I got home from work, unpacked the very impressive Nathan Drake collectible statue, took a picture or two and sat down to dinner.
The collector's set is very large, but rather sparse. The statue is the centerpiece and, at over a foot tall, towers over similar pack-ins from other games. The game, in a steel case, a small hardcover art book, some stickers and a small load of downloadable multi-player goodies are also included. It pales in comparison to the cornucopia of trinkets in the Uncharted 3 collector's editions, but hey, it is a very impressive statue!
Uncharted has always been an event around here. Games like "Fallout 4" or  "Dragon Age" mark the beginning of a marathon. You know that you'll be spending dozens, if not hundreds, of hours with them. "Uncharted" signals a frenzied sprint. A weekend of steady play does it for the first play-through. This is followed by another, more leisurely (and frustrating) play-through on Survival difficulty over the next week or so. Finally there's some dabbling in multi-player then the recurrent realization that I suck at multiplayer.
So, dinner. Flying in the face of everything Nick-at-Nite ever tried to teach us, we ate spaghetti and meatballs in front of the T.V. like animals. Animals that watch "Big Bang theory". I finished, sent the children away, removed "Fallout 4" from the PlayStation and slipped in my shiney new prize.
The game loaded quickly, then told me there was a patch. Having been burned by ignoring patches before, I let it load while I watched a fun video from Jon over at Many a True Nerd.  Then I went back. It was still loading.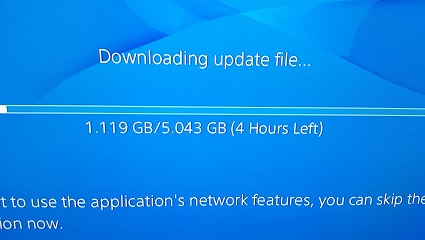 Yup. I missed it at first, but that is a five gigabyte day one patch. And despite my blazing fast Intertube speed, it's going to take… forever.
Game'll be great. This is just a speed-bump. Real first impressions soon.